How long do i have to hang around you before i can be certain that you like me? It doesn't have to be love - that I understand. But, between a man and a woman, on internet, if it isn't love then what is it? When can i be brutally honest with you here and say that i wish i could fuck you, without you getting upset? And, after that, when can you say that you love me without you getting upset?
Yesterday I was  roaming in Kumhrar gardens in Patna. I am here to attend a wedding. I have seen the mauryan ruins in Kumhrar several times, so this time I came to see the other attraction that Kumhrar gardens is famous for - pyaar mohabbat ke nazare. There were a lot of couples in the park - under a tree, on a rock, on the bench. I took a few photos of a few couples as onlookers laughed at my taking their pictures while the couples continued to be oblivious of what was going on. Then I heard a faint music  emanate from the ground; so I pressed my ear to the ground and heard a soft drone that seemed to have carried over great distances -


I am true for no reason. I am true by accident. That's why you can never find out what's going on. That's why you can never prove what's going on. I am true. I  am true. No reason. No reason. By accident. By accident.
Patna has lover's points? 

repeating, in Patna couples openly meet? 

no one got beaten up? 

you clicked pics of them, and no one got scared? 

and no one got beaten up? YOU didn't get beat up? 

in Patna?
lol... regarding the abstract - truth is the one thing that can be found, and proven too, no? Atleast that's what the Forensic Files episodes tell me....
Patna has lover's points?
Here are two photos I took: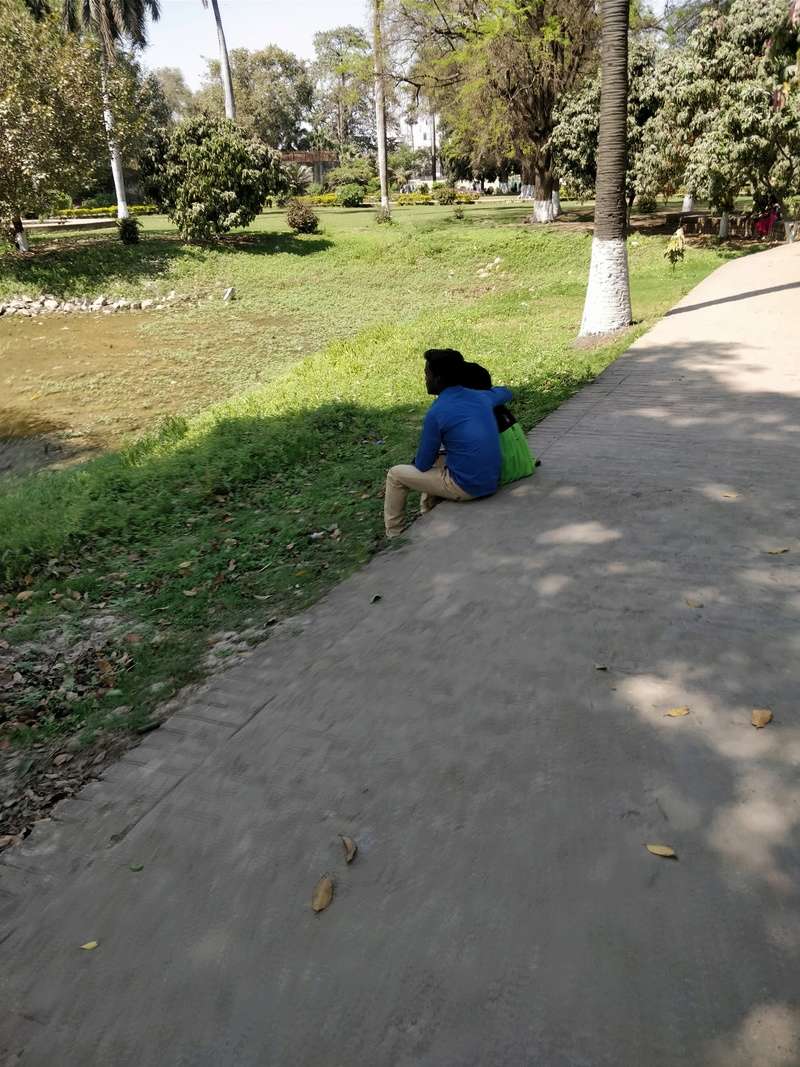 In that garden are also the ruins of an Arogya Bhavan (Buddhist Ayurveda school) from Ashokan times:
Crime has always been low in Nitish's rule. 
truth is the one thing that can be found, and proven too, no? Atleast that's what the Forensic Files episodes tell me
I think I can explain this but let me recount an incident from the Puranas first. Ganesha challenged Kartikeya that he could outrun him in a race to circle the universe and Kartikeya accepted. Shiva and Parvati presided over the friendly race. As Kartikeya shot into space and vanished from everyone's vision, Ganesha lazily circled the seated form of his parents and then sat down. When Kartikeya returned, he was disappointed to learn that he had lost the race. So, I have two types of explanations for you. I do not know whether you want the quick one or the long one. I also feel that even you do not know which explanation you will choose, because you choose for no reason, you choose by accident. And that is why you will never find out what is going on and you will never be able to prove what is going on, LOL. 
oh god you actually posted the pics! is there a way to take them down? Or maybe it's ok coz most of them are sorta obscure, also i highly doubt anyone other than the 16 of us (including avatars) look at this forum ...

glad to know Patna is so pharward now. back in the 80s and 90s whenever our Bihari cousins visited us, they would do a double take seeing us dressed in western clothes and riding two-wheelers, that too past 8-9 pm...

Cute age, that. Holding hands and hugging coyly in parks. At this age and in this country... ok will hold my shameful memories right here lol.. like XB says - tu US jaakar ekdum bigad gayi hai...

raha tumhara truth, to prabhu ji you are far advanced than mere mortals like me. Even if i am eating toor daal tomorrow, you will convince me i am actually eating chicken...
It's ok. There was a time when the adminstration would refuse me entry till I agreed to leave my camera behind with them, but now they don't care because it is impossible to enforce that no one smuggles in a mobile. So it is not just the relics in there that are aware that they can be photographed.

---
Permissions in this forum:
You
cannot
reply to topics in this forum