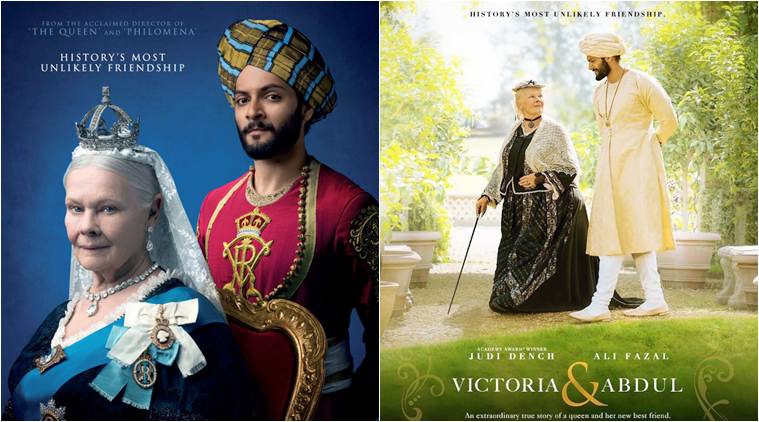 Review is full of spoilers
This film deals with the unlikely friendship between Queen Victoria and an Indian servant called Abdul Karim , which the British establishment had tried to be kept hidden because it was embarrassed by it . It was uncovered by Shrabani Basu , who wrote a book on it ; the movie is based on the book . 
It is the late nineteenth century and Britain is at the peak of it's power , with the ceremonial monarch being Queen Victoria ( played by Judi Dench ) . She is getting really old and has plenty of children and grandchildren . But she misses her long dead husband and is in need of company . 
At this juncture arrives an Indian servant called Abdul Karim ( played by Indian Bollywood actor Ali Fazal ) for presentation of a ceremonial coin to the queen . He catches her eyes by looking directly into them ( something that is forbidden ) . She is intrigued by his strapping good looks and striking tall personality , and asks for him to be bidden to her office to meet her . He immediately strikes up a conversation with her , impressing her with his knowledge of poetry and carpets . He talks about the city of Agra that he comes from , and of the iconic Taj mahal that stands in the city and of the Mughal emperor who built it and other kings of India and Persia . And the lonely queen wants more of his company .
Soon he is everywhere with her , in parties as well as lonely outings to remote lakeside places . The queen even arranges for him to act in a play with him playing Persian king of kings and British women cowering before him . Everywhere he is wearing his Indian turbaned headgear and his Indian clothes . In that era he appears totally out of place in the British establishment . And predictably the British establishment is appalled . 
The Prime minister is shocked that the queen has built a durbar hall ( place of audience ) in the Indian style at Abdul's advice , and her son future king Edward is more shocked that she has made this lowly servant her munshi---some sort of secretary . She even plans to made Abdul a knight , and the whole staff practically revolts at this idea and forces her to drop this plan .
Clearly the servant from a conquered race ( the Indians ) has grown too big for his boots and his wings have to be clipped . And the chance does arrive when the sly Abdul tries to poison the Queen's ears against the hindus of his own country by telling her that it was they who had revolted against the British empire in the mutiny of 1857 , and that it was the muslims who had helped put down that revolt . But when she tells her staff of this , they tell her the opposite and she feels humiliated by her lack of knowledge . And she wants to remove him from his position . 
At this point I had begun to thoroughly dislike Abdul and his shenanigans . If he tried to poison Queen Victoria's ears against my people ( hindus ) then why should I like him ? Even before this he had asked the Queen to learn the urdu language rather than the hindi language , and I had barely forgiven him for this . His wife and mother in law wear the head to toe burkha covering every inch of their bodies in black attire . A fundamentalist he was , what else....
But the queen soon forgives him for his misdemeanour , and asks the royal doctor to examine him and his wife for not having children . And this fellow is diagnosed with a sexually transmitted disease---gonorrhoea . One wonders what art this fellow has , that he has acquired such a hold on the queen's mind . Probably the gift of gab , which impresses many old women . For she asks the horrified doctor in front of her staff to cure his disease , rather than kick him out of his job as they demand . This even though Abdul has been proven to be untruthful about his past ; he has claimed to be from a family of noble origin though actually his family are just clerks who keep records in Indian jails . 
Prince Edward approaches Abdul's sidekick ( played by Adeel Akhtar ) to further malign his past in front of the queen . But the sidekick who has been complaining about being forced to remain in Britain flings choice words and expletives about the British empire instead , thus showing his loyalty to his comrade but also inviting his own death ; the British poison him . The queen grows worried about Abdul , who she has begun to regard as her son . She asks him to go back to India for his own safety . But Abdul stays on . 
It is only after her death that the British manage to kick him out and send him back , but only after they have set fire to all evidence of him and destroyed it....or so they think . But in the modern era Shrabani Basu uncovered it all and hence we have this film based on her book . 
What is striking of course is the sheer racism of that era . The British look upon everything Indian as alien , and Abdul and his sidekick are repeatedly treated with condescension because of their race and are mistakenly referred to as 'the hindus' . Only the Queen rises above this racism . Judi Dench has put up a reasonably good performance . Rest are appropriate in their roles . 
The movie's setting is in palaces and amidst royal pomp and grandeur . But the lavishness has not been exaggerated . Photography is decent , of dinners set in the backdrop of blinding rain and chats beside expansive lakes . Music is decent too , of trumpets blowing when the Queen makes her appearance in public and of piano and of a Scottish dance . The movie tries to make the ending sentimental but I was not impressed . 
Verdict---Okay .
Two and a half stars out of five .



Posts

: 2246


Join date

: 2011-05-04



Real life photo



Posts

: 2246


Join date

: 2011-05-04




---
Permissions in this forum:
You
cannot
reply to topics in this forum