John McCain
: Today's press conference in Helsinki was
one of the most disgraceful performances by an American president in memory
. The damage inflicted by President Trump's
naiveté, egotism, false equivalence, and sympathy for autocrats
is difficult to calculate. But it is clear that the summit in Helsinki was a tragic mistake.
President Trump proved not only unable, but unwilling to stand up to Putin.
...Not only did President Trump fail to speak the truth about an adversary; but speaking for America to the world, our president failed to defend all that makes us who we are—a republic of free people dedicated to the cause of liberty at home and abroad.
Fox News headline: LOSING BIGLY? Putin eats Trump's lunch in Helsinki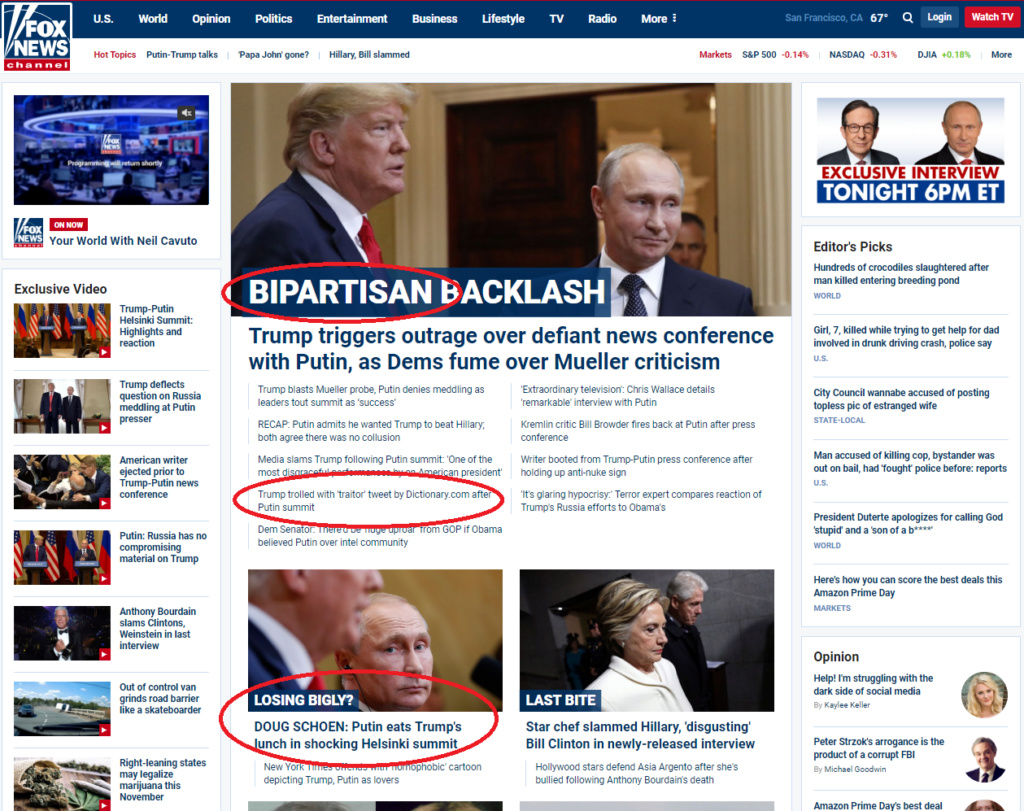 John Brennan
, former CIA director: Donald Trump's press conference performance in Helsinki rises to & exceeds the threshold of "high crimes & misdemeanors."
It was nothing short of treasonous.
Not only were Trump's comments imbecilic,
he is wholly in the pocket of Putin. Republican Patriots: Where are you???



Posts

: 8808


Join date

: 2012-04-26


Location

: Berkeley, CA



If these guys are surprised and shocked with his comments today then I have to doubt their intelligence. I mean, Going by the actions of Trump, Congress and  Senate, it was pretty evident as to what to expect, for eons now, even to a 2 year old.



Posts

: 10148


Join date

: 2011-05-08



Two observations.

1) Putin grabbed Cheetos by the gonads. Apparently when you're a dictator he lets you do it.

2) Cheetos allowed America to be cucked by Putin.



Posts

: 14699


Join date

: 2011-04-28



It is really fascinating to observe the reactions of Republicans to this mess. First, you have the likes of John McCain and Jeff Flake who have come out and clearly said the predisent made a mistake on that stage in Helsinki. Even Newt Gingrich placed himself in that group.

Then you have Mitch McConnell and Paul Ryan who have said they believe the intelligence community's assessment and that Putin is lying, and that the predisent should not believe Putin. They carefully avoided saying anything about the predisent's actions though, treating him like an imbecile whose inability to reach the correct conclusions about known facts is not his own fault. Richard Burr, who heads the Senate Intelligence committee, issued a statement in that vein.

The most interesting group is trumptards. Case in point: Devin Nunes, who heads up the House intelligence committee. He hasn't said a word. I just gave $25 to his opponent today. I hope Andrew Janz repeals and replaces Devin Nunes come this November.



Posts

: 8808


Join date

: 2012-04-26


Location

: Berkeley, CA



Should people forget the Intelligence community's claims not so long ago, supported by the highly confidential dossiers, that Sadam Hussain was having WMDs, which later turned out to be not the case?



Posts

: 5574


Join date

: 2012-11-29




---
Permissions in this forum:
You
cannot
reply to topics in this forum